St. Valentine's day is a beautiful Catholic feast day to celebrate with your kids! We can remember that this day of love really is a Catholic feast day by remember the Saint himself. You can find all of my Catholic St. Valentine's Day resources for kids here, along with some quick facts about his life, but today I want to to share with you a bunch of actual Saint Valentine printables for Catholic kids.
Printable St. Valentine Crafts For Kids
I do have a St. Valentine pack for kids, and it comes with a coloring page, Valentines, and even printable St. Valentine statue craft! You can find the Catholic St. Valentine pack here, and this is perfect for celebrating this feast day!
For just a few dollars, you can also download this St. Valentine worksheet pack from Real Life At Home.
Free Printable St. Valentine Valentines For Kids
Wow, that's a mouthful! lol. Here are some St. Valentine and Christ centered Valentines you can print to help you kids spread the true meaning of this feast day to your friends and family.
How adorable are these printable Valentines from Immaculate Heart Coloring Pages?! They are totally free to print and this isn't even the only page. You definitely need to check this out.
I have these free printable valentines that say SAINT Valentine's day that are fun and colorful for kids.
I also have these fun Scripture Valentines that are free to print. Each one is a fun pun that pairs with a specific candy to make it fun. 🙂
Free Printable St. Valentine Prayer Cards
I now have a printable St. Valentine holy card that's totally free to download for everyone! You can grab your St. Valentine prayer cards here.
St. Valentine Countdown Chain
This printable countdown chain for St. Valentine's day has 1 love Scripture for each day in February counting down the days to the feast of St. Valentine.
Post continues after this brief information about the Catholic Icing Monthly Membership
---
Monthly Liturgical Membership
Perfect for families! Each month you gain access to printable activity pages, crafts, home altar pieces, and more.
Never has living the liturgical year been so easy and affordable!
---
Free Printable St. Valentine Coloring Pages
Coloring pages are just such an easy way to live the liturgical year at home, are they not? My kids never seem to get tired of them.
Immaculate Heart Coloring Pages has this adorable coloring page of St. Valentine healing the blind girl.
Catholic Kid has this printable coloring page of St. Valentine available to print.
The Catholic Playground actually has 2 different St. Valentine coloring pages you can print for free. I love how this one shows his patronage over couples!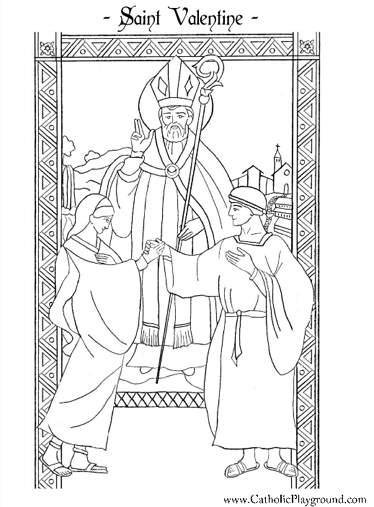 I also have these totally free Scripture coloring pages for St. Valentine's day! I love how cute the little animals are on these.
I also have these free printable count and clip cards that are perfect for celebrating St. Valentine since he is the patron Saint of beekeepers. 🙂
Don't forget to check out my other St. Valentine resources for kids here. I have tons of great resources for celebrating this feast day!