Saint Mary Magdalen was an amazing woman and was very prominent figure in the Gospels! You might be surprised to find out that some of the things you think you know about Saint Mary Magdalene really aren't stories about her at all. This amazing Saint was the first to discover Jesus had risen from the dead, and her feast day is celebrated each year on July 22 by many faiths including Catholics, Eastern Orthodox, Anglicans, and Lutherans. You can find all my posts about living liturgically in July here, but for now let's take a look at some St. Mary Magdalene resources for kids.
When To Celebrate St. Mary Magdalene
The Easter season is a perfect time given her amazing connection to the resurrection of Jesus! Also, she now has a feast day of July 22.
In 2016, Pope Francis bumped this "memorial" into a full feast day of the Catholic church, making St. Mary Magdalene
the only other woman
other than Mary (the Mother of Jesus) to have an actual feast day above memorial level! I love that a woman played a large role in the ministry of Jesus. What an amazing role model for our daughters!
St. Mary Magdalene "Quick Facts"
I always find that the more I know about the Saint, the better I can plan fun feast day activities! Let's take a look at the life of St. Mary Magdalene in a nutshell.
disciple of Christ
mentioned in the Gospels at least a dozen times
present at the crucifixion of Jesus
discovered the empty tomb on Easter
known as the "apostle of the apostles"
very strong and influential woman from the Bible
portrayed Scripturally to have a primary role over Jesus' female followers
I love thinking about how brave St. Mary Magdalene was to be present at the actual death of Jesus when many of the other apostles were hiding to avoid being arrested themselves.
Now here are some things that St. Mary Magdalene was not:
she was not the woman from the Bible that washes Jesus' feet with her tears and her hair
Although these things were traditionally associate with Mary of Magdala, the Catholic church came forward in the 1960's saying that there is no reason to believe that Mary Magdalene was either of these other women mentioned in the Bible. One (the "great sinner") goes unnamed, and it is believed the woman that washes his feet with her tears and dries them with her hair may have been Mary of Bethany, also the sister of Lazarus. You can read more here.
Ok, I think we are ready to look at some ways to celebrate St. Mary Magdalene with kids!
St. Mary Magdalene Picture Books For Kids
Unfortunately I can't recommend many books or videos to teach kids about St. Mary Magdalene because almost everything I looked at had the outdated information about her.
The Jesus Storybook Bible is a great resource that I highly recommend, and the story of St. Mary Magdalene from this Bible doesn't disappoint! It goes from pages 310-317.
This Twas The Morning Of Easter book looks fabulous! I haven't read it yet, but I just ordered it. I love how it follows the template of "Twas The Night Before Christmas", linking the Christmas story to the Easter story. I think that's such a subtle but perfect detail! From what I can see from the preview, it looks like it includes a lot about St. Mary Magdalene and the illustrations and rhymes both look beautiful.
Here is another picture book about Mary Magdalene that I thought looks interesting. This books seems to tell the story from Mary Magdalene's point of view, pondering her place among the apostles. I'm interested to read this one!
This picture book, The Ballad of Magdala, is all about the town that Mary of Magadla was from! Another interesting read when learning about this amazing Saint.
Last but not least, check out this story of St. Mary Magdalene and the First Easter Egg.
Mary Magdalene And The Red Egg
Have you heard the legend of the very first Easter egg? This story stems from St. Mary Magdalene! I have a whole post Mary Magdalene and the red egg here.
Post continues after this brief information about the Catholic Icing Monthly Membership
---
Monthly Liturgical Membership
Perfect for families! Each month you gain access to printable activity pages, crafts, home altar pieces, and more.
Never has living the liturgical year been so easy and affordable!
---
For a fun activity, try dying your own eggs red! You can find directions here on how to dye eggs red naturally from Design Mom.
St. Mary Magdalene Printables For Kids
You can download and print your free St. Mary Magdalene info page from Kids' Korner. I totally recommend printing this page!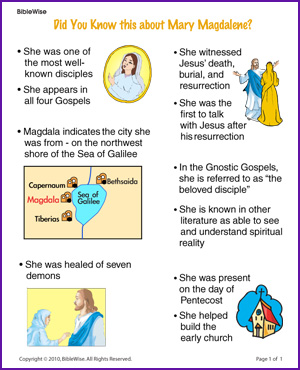 If you check out my resurrection set, you can get a free printable St. Mary Magdalene stand up craft that goes with the set.
I also have a printable stand up craft of St. Mary Magdalene in my All Saints' day food labels set, and she goes with the "spice tea" since she is the bringer of the Myrrh on Easter morning.
In my printable Easter peg doll set, you'll also find St. Mary Magdalene, and any time is the perfect time to make her into your very own wooden peg doll! With these sets, I have step by step directions to show you how to paint the heads, adding the face with a sharpie marker. Then the body decoupages on, making these cute and doable even for the non-artist!
Don't miss this free printable coloring page of St. Mary Magdalene a a myrrh bearer from The Catholic Kid.
And St. Anne's Helper has this St. Mary Magdalene coloring page that's also free to print where she is before Jesus.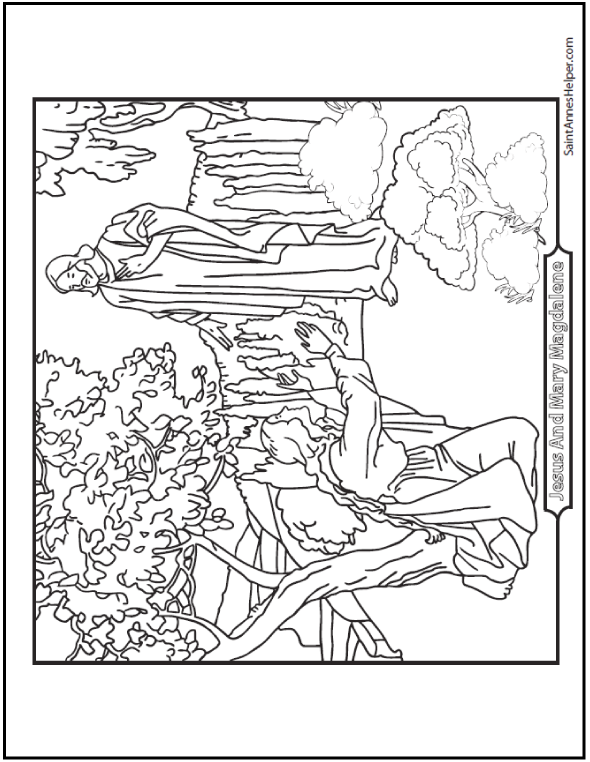 Fun St. Mary Magdalene Food Ideas
Baking some empty tomb rolls is the perfect way to remember St. Mary Magdalene, as she was the one to discover the empty tomb! These are also called resrurection rolls, and you can find everything you ever wanted to know about resurrection rolls here, including 4 different ways to make them. Your kids are going to love this cinnamon sugar marshmallow awesomeness!
We always have
spice tea to represent St. Mary Magdalene
at our
symbolic Easter tea
. This tea features the Stations of the Resurrection, which is everything that happens starting on Easter morning and goes through Pentecost Sunday.
Try serving some red deviled eggs! They go perfectly with her red egg story, and who doesn't love a deviled egg?
Find the recipe
over on
Blondie's Cakes & Things.