On Easter Vigil this past weekend, my Daddy came into the Catholic Church!
When I was 7 years old and received my First Holy Communion, I gave it up to my daddy and I prayed that someday he would become Catholic. I made this my tradition each week, offering up my Communion and saying a prayer for him. Ever week I continued this until I was 15, and I realized that I had been praying for my daddy to become Catholic for more than half of my life. Perhaps it was time to pray for sometime else… sometimes, the answer to a prayer was just "no".
Well, after 35 years of marriage to my mom, and 20 years after my First Communion, here is my Daddy receiving his First Communion:
…and getting confirmed.
He was Baptized as a Baptist when he was a boy, so he didn't need to get Baptized again.
When I was growing up, every night at my parent's house we would sit down for dinner. My mom, brother and I would pray the Catholic "before dinner prayer" while my dad just patiently sat there, saying nothing at all. Year after year for my whole life.
Last year my daddy started coming to Mass. I'm not sure exactly why, but I think my little brother (age 10) asked him to come. At first he just came. He didn't kneel, and he didn't pray. Then he started saying some of the prayers… like the Our Father.
After a few months, he started to say parts of the creed during Mass, and some of the other parts he started asking questions about. Week after week, he started saying more of the creed.
By the Fall, he had decided to join the RCIA class. His teacher was incredible, which was a huge blessing! The whole RCIA class used my Picture Book of the Mass. I was so delighted this was a resource that my own father was able to use! It was especially helpful in the beginning when he wasn't familiar with the Mass at all, and my mom's missal was too complicated for him to follow- perfect book for RCIA classes.
Post continues after this brief information about the Catholic Icing Monthly Membership
---
Monthly Liturgical Membership
Perfect for families! Each month you gain access to printable activity pages, crafts, home altar pieces, and more.
Never has living the liturgical year been so easy and affordable!
---
For his birthday, I got him his first rosary. (It was a Marine Corps rosary from Trendy Traditions, because my dad is a former Marine).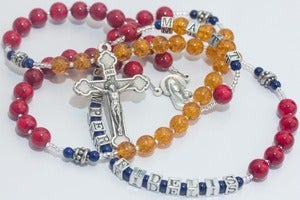 Before we knew it, we were hearing crazy things out of his mouth, like "Sorry I'm late- I lost track of time while reading the Bible at adoration". Jaw dropping, folks!!! (And we're still trippin when we see him do the sign of the cross- so crazy!)
On Easter Vigil, we went out to eat at a super nice restaurant, since this was a once-in-a-lifetime celebration. Babysitters and everything. 😉 I also thoroughly enjoyed Easter Vigil Mass without the little ones.
As a "Welcome to the Church" gift, I gave him "Prayers for Catholic Men" (which, by the way, is much cheaper on Amazon than it was at my local Catholic shop.) This book was small, and I wanted something "nicer" (maybe with a leather cover), but in the end, I just loved the prayers in this book. I totally recommend it for the Catholic Men in your life.
I also got him an icon of the archangels since he took Saint Michael as his confirmation saint.
It seems that God is constantly reminding me these days that things happen in His time, not in ours. It's a good thing that prayer is timeless. I still have someone very near and dear to me that is not a believer. I shall keep on praying. It only took my mom 35 years to convert my dad, but in the end, it's not us who does the converting. It's God.
I don't usually post personal posts like this, but hey, how often does my daddy come into the Church? I promise my next post will be about a Catholic craft. 😉