If you are looking for the best most yummy chocolate cookie recipes ever, you have come to the right place! I have a list of delicious cookie recipes- chocolate chocolate chocolate! These tasty chocolate cookie recipes are sure to leave you reaching for a tall glass of milk. There are recipes here from around the world, some with dark chocolate, some with milk chocolate, some with chocolate chips, and all perfect for your cookie loving chocoholic!
Hershey Kiss Cookies by Spend with Pennies
Hershey Kiss Cookies are similar to a thumbprint cookie with a chocolatey twist. Where you would normally put jam (in the thumbprint) instead, you place a Hershey Kiss!
Chocolate Cherry Cookies by Catholic Icing
That's right- this recipe is from yours truly. What could be better than chocolate cookies? Try adding a cherry on top! These are so festive and delicious and I love the pop of red on the brown chocolate cookie.
Hot Chocolate Cookies by Love From The Oven
These hot chocolate cookies look absolutely amazing! Not only do they include marshmallows, but they have chocolate chips in them as well, making these a variation of chocolate chocolate chip cookies. My favorite part of this recipe is how the ingredients call for actual hot cocoa mix. I can't wait to try these!
Dark Chocolate Crinkle Cookies by The Art of Food and Wine
No matter what you choose to call them, they are, in my opinion, the perfect cookie! My recipe is from our family cookbook and my grandmother Maxine always called them "Snow on The Mountain Cookies". It wasn't until later I learned they are more commonly called Crinkle Cookies. We always made them for Christmas but they are fantastic all year round!
Double Chocolate Almond Cookies by Milk and Pop
Chewy, fudgy and full of chocolate, these Double Chocolate Almond Cookies are super easy to make and will satisfy all the chocolate lovers out there.
Homemade Oreos by Keep Calm And Eat Ice Cream
These homemade oreos have all the things you love about oreos, crispy crunchy chocolate cookies on the outside with creamy vanilla frosting in the middle. Why buy oreos from the store when you can make your own at home!
Gooey Chocolate Chip Cake Mix Cookies by Bite Sized Kitchen
These are the perfect cookie for chocolate lovers using a box of cake mix and the secret ingredient… coffee! These delicious cookies will keep you coming back for more.
Chewy Chocolate Fudge Cookies by Urban Bliss Life
Looking for THE perfect chocolate cookie? These Chewy Chocolate Fudge Cookies are chewy, fudgy, with a beautiful crackle top and optional sea salt. So good!
Chocolate Drop Cookies by Simply Happenings
Chocolate Drop Cookies are rich and fudge-like with chocolate buttercream frosting and chocolate sprinkles. Yields approximately 2 dozen cookies which is just enough to share!
Post continues after this brief information about the Catholic Icing Monthly Membership
---
Monthly Liturgical Membership
Perfect for families! Each month you gain access to printable activity pages, crafts, home altar pieces, and more.
Never has living the liturgical year been so easy and affordable!
---
Chocolate Swirled Meringues by The Casual Foodist
Meringue cookies, I absolutely love them. They are just the right amount of everything. Just fancy enough, just sweet enough and pretty easy to make. Oh, and if you add a swirl of dark chocolate on top? Divine.
Chocolate Rum Crinkles by But First Dessert
If you love chocolate with a hint of rum mixed in you will enjoy these just as much as my family does.
Peppermint Hot Chocolate Cookies by Midwexican
Hot chocolate flavor with the perfect complimentary flavor; peppermint makes the ideal cookie to share all winter long!
No Bake Chocolate Cookie by Texan Erin
These no-bake chocolate oatmeal cookies are wonderfully chewy, easy to make and are vegan and gluten-free. With a nut-free option.
Mudslide Cookies by Sumptuous Spoonfuls
These gluten free cookies are chocolate, delicious and perfect for sharing with friends and family. As a bonus they are lower in fat too!
Double Dark Chocolate Pomegranate Cookies by Mom Foodie
Just looking at these cookies makes my mouth water! Check out this very chocolaty and unique cookie recipe.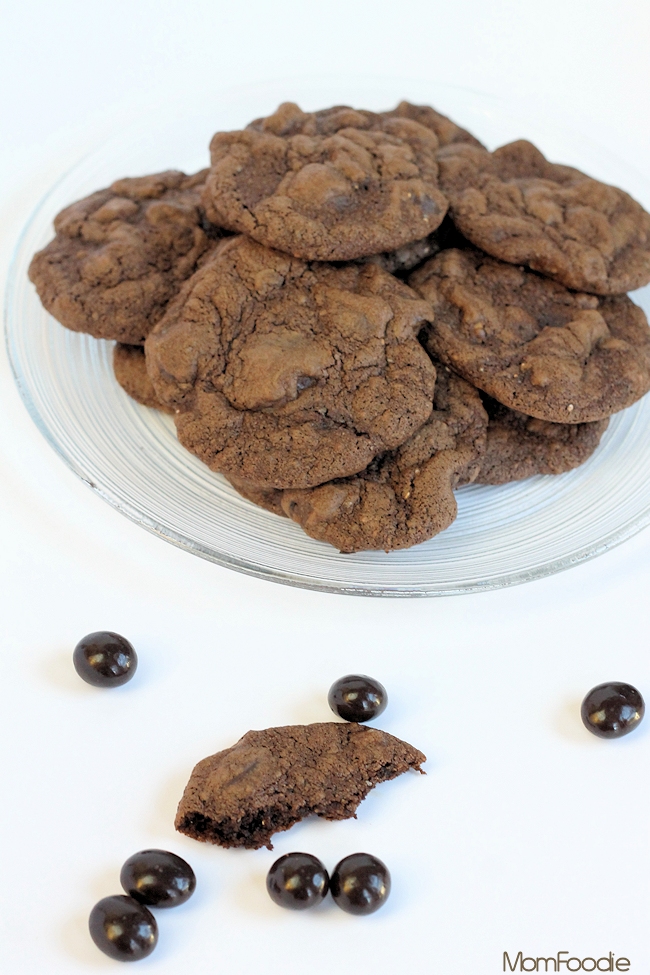 Chocolate Orange Cookies by Crumbs and Corkscrews
Big, thick and perfectly fudgy New York style chocolate orange cookies, are the cookie that you didn't know you needed, until now! Utterly indulgent, these no chill cookies are stuffed with chunks of chocolate orange and can be ready to eat in under 30 minutes!
Chocolate Peanut Butter No Bake Cookies by Mom Foodie
These chocolate cookies have peanut butter, and are easy to make and perfect with a glass of milk. These have been one of my favorite kinds of cookies for my whole life, and nothing goes with chocolate like peanut butter!
Even More Delicious Cookie Recipes
Be sure to check out this list of 20 absolutely delicious cookie recipes here.