Saint Josephine Bakhita is an inspiring Saint with a tragic story. Her feast day falls each year on February 8. Also, the month of November is Black Catholic History Awareness Month, so that's a great time to celebrate her life as well. Today, let's look at some celebrating the life of St. Bakhita for kids with crafts, printables, and even more resources.
"O Lord, if I could fly to my people and tell them of your Goodness at the top of my voice: Oh, how many souls would be won!" -St. Josephine Bakhita
St. Josephine Bakhita "Cheat Sheet"
As always, it's a lot easier to plan out your learning when you know the highlights of the Saint's life yourself! Let's take a look at St. Josephine Bakhita in a nutshell to understand out celebration ideas.
Feast day February 8
Born in Sudan, a country in North East Africa
Kidnapped and sold as a slave at age 8
Couldn't remember the name given to her from her parents
Given the name "Bakhita", which means "lucky one"
Tortured, abused, and mutilated
Forced to receive over 60 tattoos made painfully with a razor and salt
Finally at age 14 she was a nanny to an Italian family
Learned about God from the Sisters of Charity while attending to a Christian child
Family wanted to return Josephine Bakhita to Africa, but she fought to stay in Italy with the Sisters of Charity. Because slavery was illegal in Italy, with help from civil and religious authorities, she was able to stay.
Was baptized and confirmed, then joined the religious order
She prayed for her town (Schio) during the first and second world wars, which was spared from devastating damage, and this was credited to her prayers
Known by the people as Mother Moretta, "Our Black Mother"
Also known as the "Universal Sister" because of her love for people of all colors
Patron Saint of Sudan and Africa, and against human trafficking
Often pictured with broken chains symbolizing her escape from slavery
Also pictured with a necklace of Our Lady Of Sorrows
This is such a tragic yet inspiring story! I would encourage you to read further about St. Bakhita as some of her quotes are absolutely amazing.
Saint Josephine Bakhita Video For Kids
My Catholic Family has a 20 minute video that's free to watch that tells the story of St. Bakhita for kids.
The following links may include affiliates, which means that I earn a small commission if you purchase the item at no extra cost to you.
St. Bakhita Picture Books For Kids
When you're starting to teach your kids about the lives of the Saints, I suggest starting with a Saint picture book treasury that includes a lot of short stories you can read together. This will give you a good starting place and then you can add to your library of Saint books over the years. I think this Picture Book Of Saints is a good beginning Saint book for Catholic families. You can find St. Bakhita's story in this book on page 126.
Saint Bakhita Of Sudan: Forever Free. A cute little picture book for kids with the story of St. Josephine Bakhita
St. Bakhita Printables For Kids
I drew a coloring page of St. Josephine Bakhita for kids, and it's totally free to print! You can grab yours by clicking the button below.
You can also grab this free printable St. Bakhita prayer card from Catholic Homebody, along with other feast day resources.
St. Bakhita Crafts And Activities For Kids
You can use the templates inside of my Saint Puppet Ebook to create any Saint you wish, St. Bakhita included (just cut the pieces from the right colors of paper for her order) . 🙂
Catholic Homebody has this absolutely adorable St. Josephine Bakhita necklace craft with free printables. This is such a perfect way to celebrate!!!
My kids absolutely adore Saint peg dolls, and they have hands down been the most played with toy in our home among 4 children! If you're feeling crafty, paint one with your kids! You may be surprised how young kids can make their own peg dolls. Check out my printable Saint peg dolls to get your collection started on the easy! I painted several St. Bakhita peg dolls for my niece's first communion, as my niece was born in Sudan, so we consider St. Bakhita her patron Saint!
Post continues after this brief information about the Catholic Icing Monthly Membership
---
Monthly Liturgical Membership
Perfect for families! Each month you gain access to printable activity pages, crafts, home altar pieces, and more.
Never has living the liturgical year been so easy and affordable!
---
If you're feeling overly crafty, you can sew together your own Saint Bakhita doll, crazy quilt style. My mom (an enthusiastic crazy quilter) made the one pictured below. She added an old necklace chain as her broken chains, added ribbon to her head, and even made an Our Lady Of Sorrows necklace for her to wear, including one of those half glass marbles to the top of it. She also embroidered some beautiful flowers at her feet.
For a much easier doll craft, check out these super easy DIY dolls from Faith And Fabric. My girls love when I take the time to sew with them, and they absolutely adore these dolls that they made themselves. Here are my girls with theirs. You can order the St. Josephine Bakhita Sew A Saint doll here.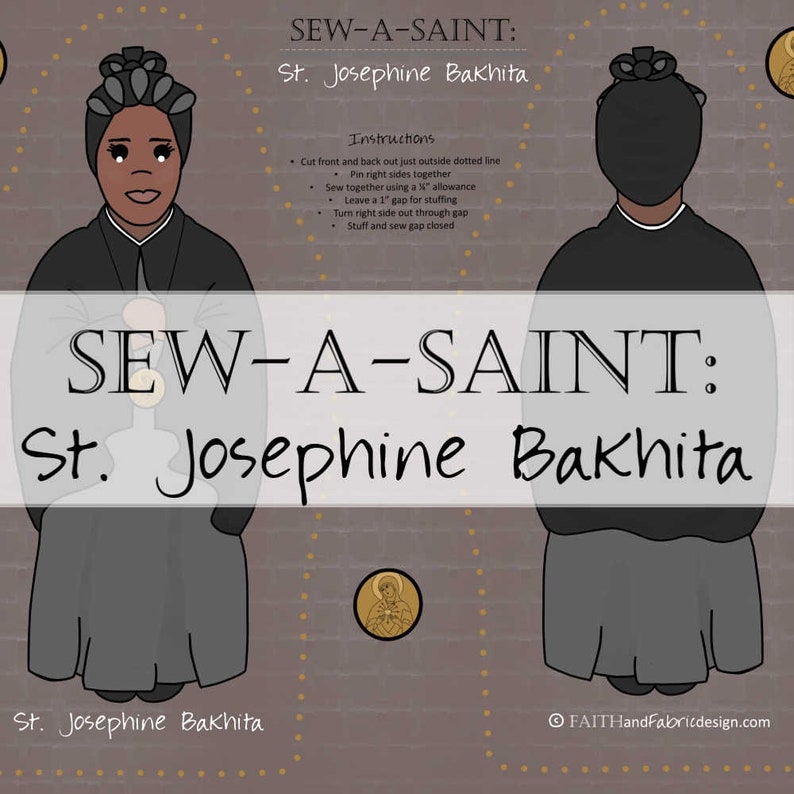 You could also try your hand at this free St. Bakhita cross stitch pattern from Catholic Sprouts. How cute is this?
I also adore the Catholic paper dolls from Stella Marigold Art, and she totally has a St. Bakita paper doll set! How amazing is her art?!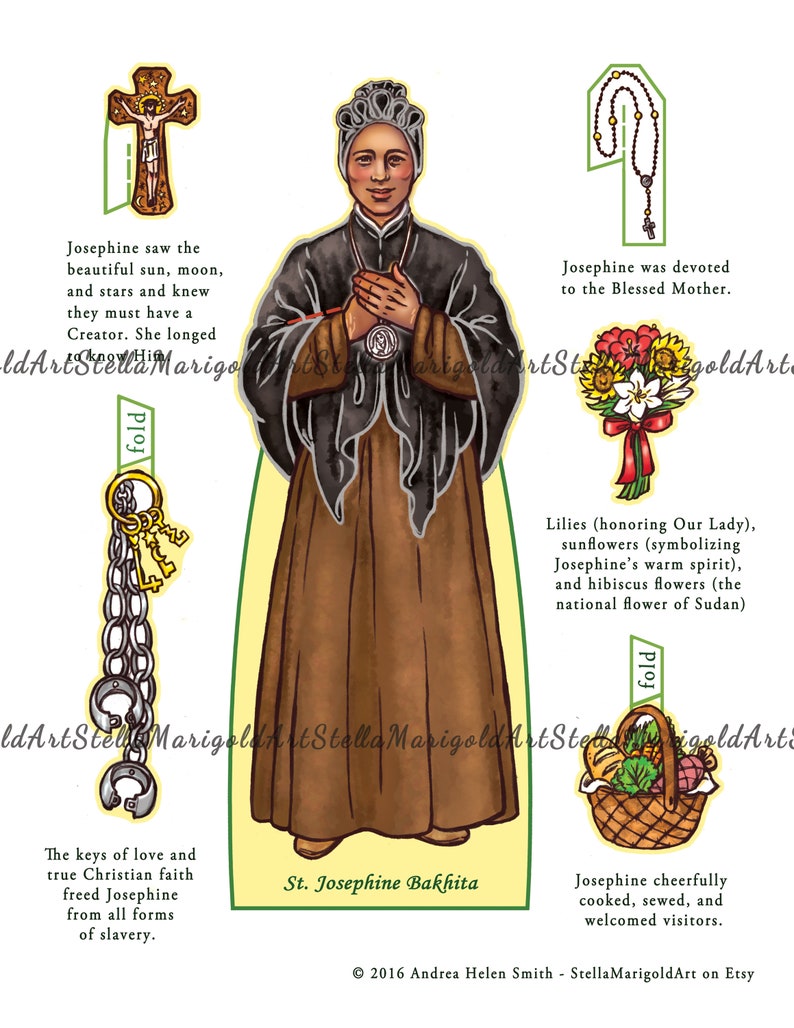 I shared a lot of St. Bakhita dolls you can make, but you can also purchase this adorable St. Bakhita figure here. Isn't it cute? Only $13.
More Simple Feast Day Ideas
Try supporting an organization that is run by and helps support African women! I recently purchased these beautiful hand made paper bead bracelets from Project Lydia. These items are made by abandoned and widowed African women and the proceeds go to support themselves and their families. You can read more about it here.
Help put a stop to human trafficking! You can donate to the U.S. Catholic Sisters Against Human Trafficking and see how to make yourself aware of the signs. Read more here.
Fun St. Bakhita Food Ideas
Over on Sweet Little Ones Blog, they made this adorable snack to symbolize St. Bakhita! Click over to her St. Josephine Bakhita celebration to see why, along with many other feast day ideas.
"I have given everything to my Master: He will take care of me… The best thing for us is not what we consider best, but what the Lord wants of us!" – St. Josephine Bakhita
I hope you found some of these ideas useful for learning about St. Bakhita with your kids.
You can find all of my resources for celebrating Black Catholic Awareness Month here.