Saints Perpetua and Felicity were brave and wonderful Saints with an inspiring story! Their feast day falls each year on March 7. Also, the month of November is Black Catholic History Awareness Month, so that's a great time to celebrate their lives as well. Saint Felicity is also known as "Saint Felicitas". Today, let's look at some ideas for celebrating the lives of Saints Perpetua and Felicity with these resources for kids.
"Stand fast in the faith and love one another. And do not let what we suffer be a stumbling-block to you!" -St. Perpetua
Saints Perpetua And Felicity Quick Facts
As always, it's a lot easier to plan out your learning when you know the highlights of the Saints lives yourself! Let's take a look at Saints Perpetua and Felicity in a nutshell to understand and plan out some celebration ideas.
I will start off by saying that I have seen these Saints depicted a number of different ways with their skin tones, and while we have no pictures of them so we can't be certain of their skin tone, they were both from North Africa, so it's a fair assumption to say that they both had darker skin.
Feast day March 7
Martyred together for being Christian
Patron Saints of mothers, and expectant mothers
St. Perpetua noblewoman from present day Tunisia
St. Felicity was St. Perpetua's slave
Both African women
St. Perpetua had a small child at the time of her arrest
St. Felicity was expecting a baby while in prison, but wanted to be martyred with her companions, so she prayed for the baby to be delivered in time for the martyrdom
St. Perpetua kept a detailed diary of their imprisonment that shows what a strong bond of friendship these women had, and how awful their time of imprisonment was
She delivered her baby in prison, and was able to see her baby, which she said made prison feel like a palace
Both Saints were baptized in prison
Converted their prison guards to the faith
Perpetua had visions of heaven that included a very long and narrow bronze ladder guarded by weapons and a dragon. She was told the dragon would not harm her, and she used his head as a step to the ladder.
They were thrown to a wild cow in front of a crowd, which was an animal chosen as a mockery to them as women, then they were beheaded
The strength and friendship of these 2 Saints is so inspiring! I think we are ready to see how to celebrate their lives.
Sts. Perpetua And Felicity Video For Kids
My Catholic Family has a 20 minute video that's free to watch that tells the story of Saints Perpetua and Felicity for kids.
The following links may include affiliates, which means that I earn a small commission if you purchase the item at no extra cost to you.
You can also get this video of St. Perpetua , The Perpetua Story, from Amazon, either as a DVD or you can also stream it.
Saints Perpetua And Felicity Printables For Kids
Catholic Inspired has a free printable coloring page of Saints Perpetua and Felicity where you can see that St. Felicity is still pregnant. Very sweet coloring page!
I especially like how this coloring page from Catholic Playground depicts the cow as well as the Saints.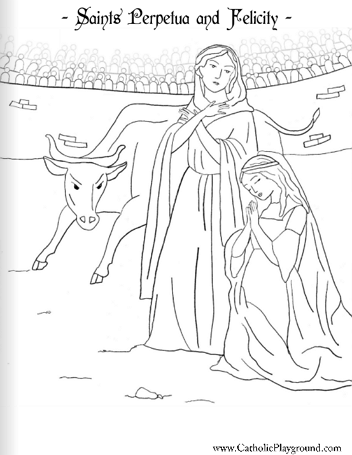 Post continues after this brief information about the Catholic Icing Monthly Membership
---
Monthly Liturgical Membership
Perfect for families! Each month you gain access to printable activity pages, crafts, home altar pieces, and more.
Never has living the liturgical year been so easy and affordable!
---
The Catholic Kid also has a beautiful coloring page of these Saints available to print for free.
Sts. Perpetua And Felicity Crafts And Activities For Kids
I have a printable stand up craft for Saints Perpetua and Felicity here in my All Saints' Day pack. This craft is super easy to put together and makes a great display for your feast day table or home altar.
You can use the templates inside of my Saint Puppet Ebook to create any Saint you wish, Saints Perpetua and Felicity included.
More Simple Feast Day Ideas
Try supporting an organization that is run by and helps support African women! I recently purchased these beautiful hand made paper bead bracelets from Project Lydia. These items are made by abandoned and widowed African women and the proceeds go to support themselves and their families. You can read more about it here.
Help put a stop to human trafficking! You can donate to the U.S. Catholic Sisters Against Human Trafficking and see how to make yourself aware of the signs. Read more here.
I hope you found some of these ideas useful for learning about Saints Perpetua and Felicity with your kids.
You can find all of my resources for celebrating Black Catholic Awareness Month here.
You can find more resources for living the liturgical year with kids in March here.