Y'all… these little printable Saint blocks are one of my favorite Saint resources for kids EVER! These things are so adorable, super easy to put together, ridiculously affordable, and did I mention adorable?! Every month, we come out with 2 new Saint bloks, so let's take a look at all of the printable Saint blocks that we have so far.
Here is what some of them look like from the front…
And check it out- each Saint has a little symbol that represents them for the back of the block! I love these little Saint symbols!
If Saint peg dolls have been something you wanted to collect, but they felt expensive or intimidating… these little Saint blocks were made for you!
The Catholic Icing Monthly Membership program includes 2 new printable Saint blocks each month.
Now For Sale Outside The Membership!
We have now bundled our first 6 month set, and they can be purchased separately from the membership! You can check out these Saint blocks here.
Saints blocks included in this pack:
St. Valentine
St. Joseph
Saints Perpetua and Felicity
St. Josephine Bakhita
St. Martin de Porres
St. Basil
St. Therese
St. Nicholas
Our Lady of Guadalupe
St. Agnes
St. Jude
St. Cecilia
And look at the little symbols on the backs of the blocks!
Read more about this first available pack here!
How To Make Printable Saint Blocks
These go together so easily that truly anyone can do it!
Supplies Needed For Printable Saint Blocks:
disclaimer- these links are affiliate links
Saint block printables
Paper (for decoupaging, you want to print these onto standard paper. If you're chosing to fold them into paper cubes, you should use card stock.)
Wooden Craft Cubes (I love the 1.5 inch cubes)
Sand paper (the cubes are MUCH nicer in the end if you take a little time to sand the edges of the cubes before beginning)
Mod Podge (they have small bottles of this at the Dollar Tree)
Paint brush (for spreading Mod Podge- I like these foam brushes)
Scissors
Aluminum foil (for the cubes to dry on)
Option 1, paper cubes: Print your Saint cubes onto card stock. Cut along all of the outside edges. Then make folds on all of the remaining lines with the colorful sides facing out. This shape will fold into a cube. Put glue stick on each of the little flaps, assemble in the shape of a cube, and gently press the little flaps on the under sides of the cube to hold it in place.
Option 2, decoupage on wooden blocks: Print onto standard paper, which is better for decoupaging. The page with the cubes for decoupaging is ready to use a 1 1/2 inch block and printing at the actual size. If your wooden cube is smaller, you can print it at a smaller percentage. You will want the squares a bit smaller than your block.
Once you have the squares the right size, cut them all out into individual squares. Sand your wooden block on the corners if needed, and dust off the cube. Paint Mod Podge on one side of the block, and put a square on one side of the block. Paint another coat of Mod Podge over the top of the paper. Try not to "scrub" too much with the brush, especially if you have an ink jet printer. Just swipe on the Mod Podge with your brush and move on. It will dry clear. If it gets any wrinkles, slick them down with the back of your fingernail. When that has fully dried, you can turn the cube on its side and do the remaining bottom square using the same process. Set them on foil to dry so they don't stick to the surface and allow them to cure this way overnight.
If the paper goes onto the cube askew and needs to be adjusted, it works a lot better to peel it off and try placing it again than to try sliding it. You need to do this immediately if adjusting is necessary.
Let's go through the Saint blocks that have been included each month.
October Saint Blocks
The Saints included in the October pack were St. Therese and St. Jude.
November Saint Blocks
The Saints included in the November pack were St. Martin de Porres and St. Cecilia
Post continues after this brief information about the Catholic Icing Monthly Membership
---
Monthly Liturgical Membership
Perfect for families! Each month you gain access to printable activity pages, crafts, home altar pieces, and more.
Never has living the liturgical year been so easy and affordable!
---
December Saint Blocks
The Saint blocks included in the December pack were St. Nicholas, and Our Lady of Guadalupe
January Saint Blocks
The Saint blocks included in the January pack were St. Basil, and St. Agnes.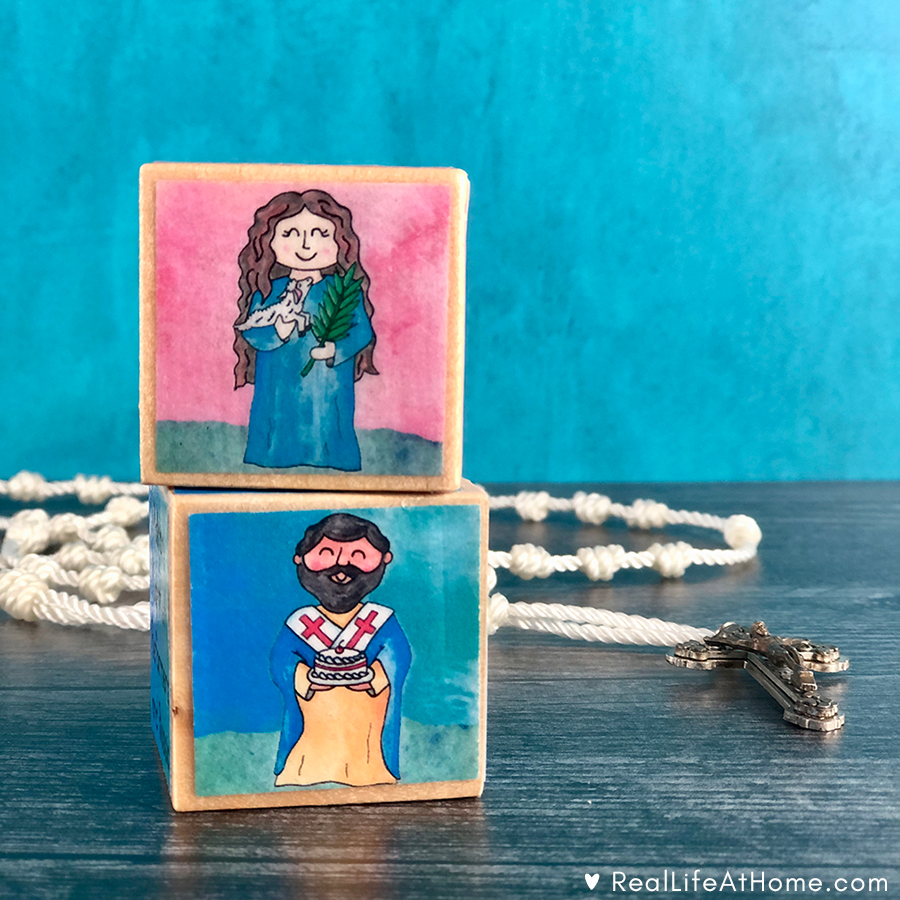 February Saint Blocks
The Saint blocks included in the February pack were St. Valentine, and St. Josephine Bakhita.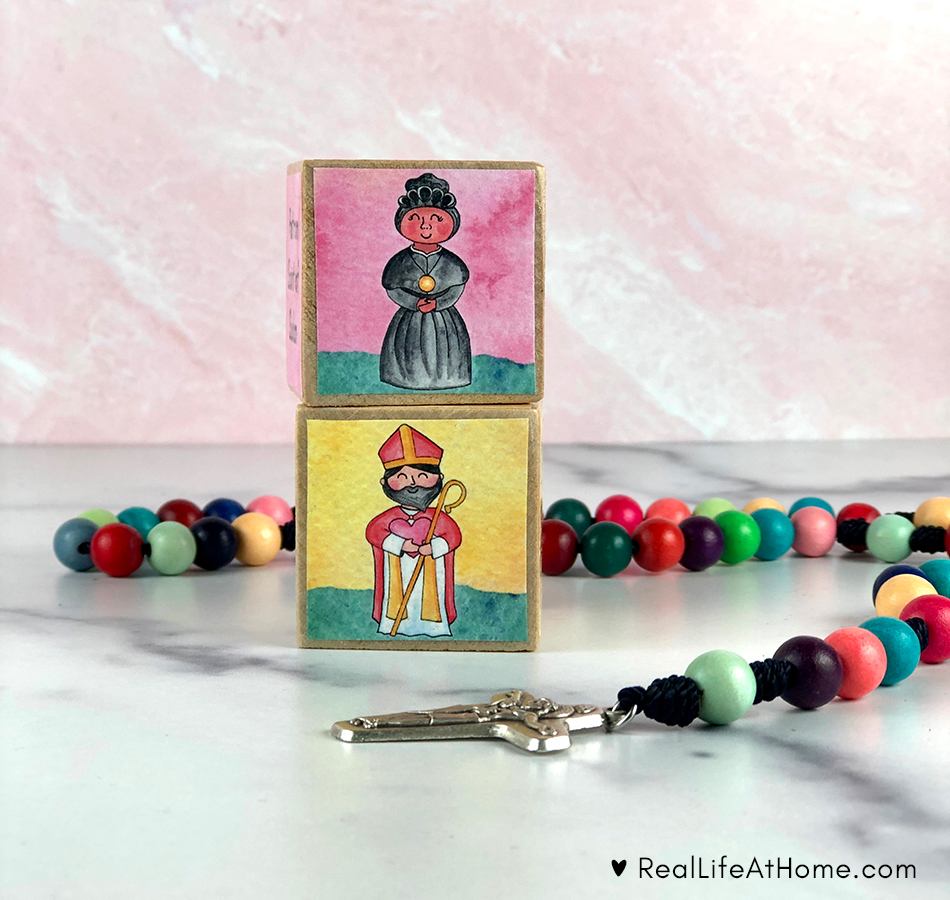 And here are the symbols on the back of these blocks. So cute!!!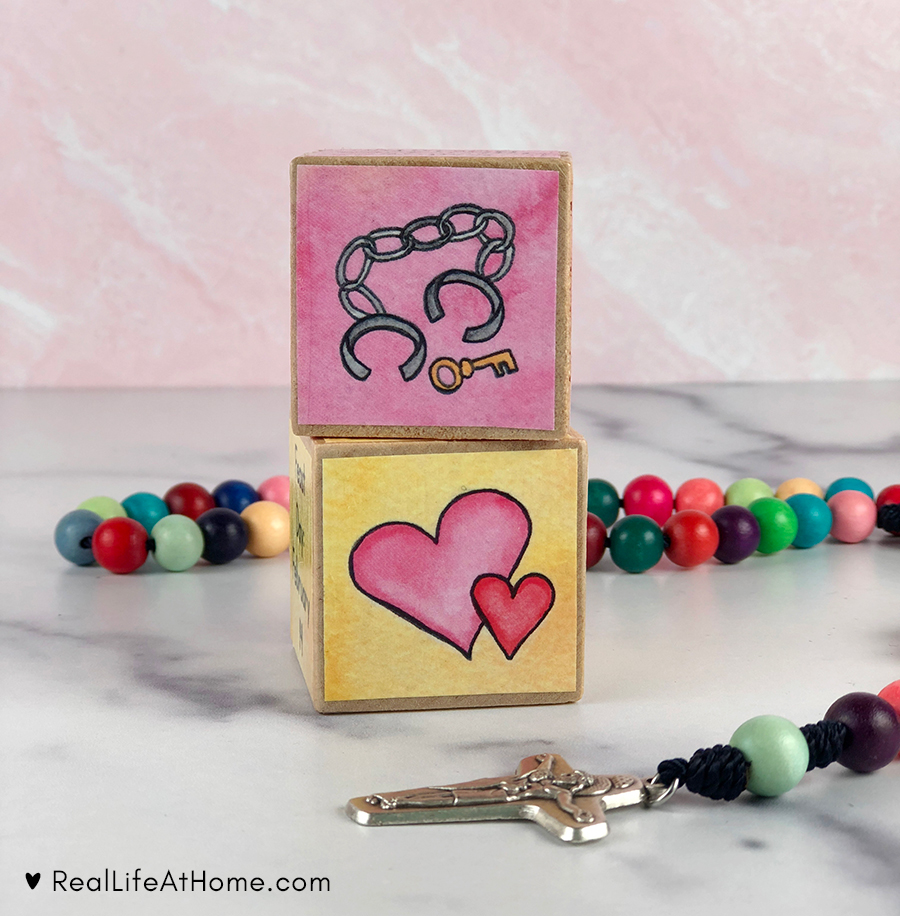 March Saint Blocks
The Saint blocks included in the March pack were St. Joseph, and Saints Perpetua and Felicity.
April Saint Blocks
The Saint blocks included in the April pack were St. Gianna, and St. George.
May Saint Blocks
The Saint blocks included in the May pack were Blessed Imelda, and St. Simon Stock.
June Saint Blocks
The Saint blocks included in the June pack were Blessed Francisca de Paula de Jesus, and Blessed Vasyl Velychkovsky.
July Saint Blocks
The Saint blocks included in the July pack were St. Kateri, and St. Benedict.
Where Can I Purchase These Printable Saint Blocks?
You can grab the first 6 months of these Saint blocks here, and join the Catholic Icing Monthly Membership program! You should sign up now so you don't miss any of these adorable little guys!
Printable Peg Dolls
If you love printable Saint blocks, you're going to love printable Saint peg dolls! The bodies decoupage on around the peg, and I provide step by step directions on how to paint the heads.