There are lot of different homemade paints that are easy to whip up at home, and in a lot of cases you may already have the ingredients you need! I love process art for kids, and playing with different mediums is a great way to get their creative juices flowing. Let's check out these easy paint recipes for kids. I think these are going to be easier and more fun than you might think!
I have included a ton of diy paint recipes for kids, and I have also included some links to supplies and paint materials that are relevant. Links may be affiliate links, which means I earn a small commission with not extra cost to you. All opinions shared about materials are my own.
How To Get Great Color From Homemade Paint
Almost every homemade paint recipe is going to call for food color. I highly suggest to have a set of gel food colors. The colors are FAR superior to those cheap liquid food colors! I love having them around and although they cost more they are worth it in the long run because they are really potent and last a super long time! You can find them at craft stores such as Michael's or in the baking section at the grocery store.
What To Mix Your Homemade Paint In
When making diy paint recipes, you'll definitely need somewhere to mix it all up! Here are some ideas of things to mix paint in that you may have available in your home:
Muffin tin
Egg plate
Ice cube trey
Small bowls (I often use disposable bowls)
Paper plates
DIY Homemade Paint Recipes!
Washable Glass Paint Recipe
This temporary window paint recipe is good anywhere you have glass! It's easy to clean up, and this post actually shows several different techniques for painting it on with cotton balls, your fingers, and other materials.
You can purchase Crayola window markers here which are also a ton of fun if you don't want to mix your own.
Watercolor Paint Recipe
Here is an easy watercolor paint recipe that can be easily made at home.
Puffy Paint Recipes
Microwave Puffy Paint Recipe
This is a favorite here! You are sure to have the necessary ingredients at home already, and it is magic watching this stuff puff in the microwave! Added bonus- the paint itself fully dries when you microwave it, so you have instant satisfaction. You can find my microwave puffy paint recipe here.
Glowing Puff Paint Recipe
This diy puffy paint glows! What could be more fun?
Shaving Cream Fluff Paint
This fluffy shaving cream paint recipe would be great for emulating whipped cream, clouds, water, or anything fluffy! Only 3 ingredients needed!
Paint Recipes For Outdoors
DIY Sidewalk Chalk Paint
Here is a great recipe for a paintable sidewalk chalk that you use with paintbrushes.
If you're looking to make your own sidewalk chalk squirt paint, check out this recipe from Mom. Wife. Busy Life. This one squeezes out of condiment bottles.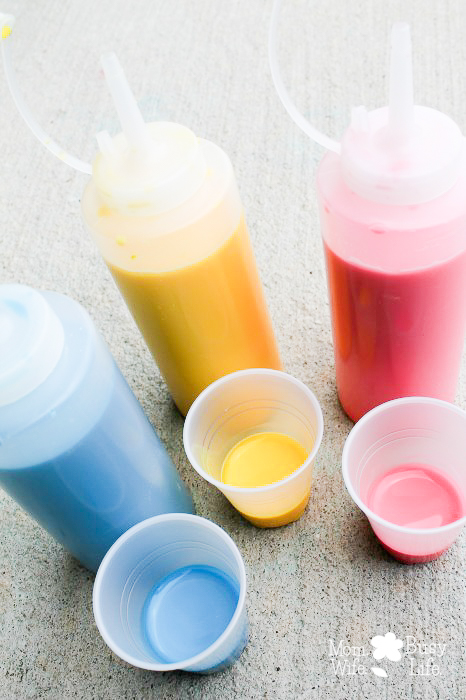 Post continues after this brief information about the Catholic Icing Monthly Membership
---
Monthly Liturgical Membership
Perfect for families! Each month you gain access to printable activity pages, crafts, home altar pieces, and more.
Never has living the liturgical year been so easy and affordable!
---
For an extra fluffy option, try this recipe for DIY sidewalk foam paint. This stuff looks like a lot of fun!
Homemade Spray Paint Recipes
This washable spray paint recipe is also great for using in the driveway. This one mixes inside of squirt bottles.
Ice Sidewalk Chalk Recipe
Looking for some cool refreshing outside fun? Try out these DIY sidewalk chalk pops.
Edible Paint Recipes
Here is an edible paint recipe from Learn, Play, Imagine. Paint this one on regular paper- great for littles!
Check out this yogurt and gelatin based edible paint recipe for kids.
Toddler And Preschool Paint Recipes
Check out this cornstarch based non-toxic homemade finger paint recipe.
Here is a special watercolor paint recipe for toddlers.
Bathtub Paint Recipes
This bathtub paint recipe is made from baby soap and corn starch.
Try out this puffy bathtub paint! Definitely different than the others. The base for this one is grated soap.
Take a look at this shaving cream bath paint.
Another idea is to try out this colorful bubble foam sensory activity. Not quite a paint, but in the same realm I would say.
Consider trying this soap paint recipe. It's made from a liquid soap.
You could also try making your own bathtub crayons!