The Day of the Dead, or in Spanish, Dia de los Muertos, is a very important celebrations for Mexicans and also Catholics all over the world! These festivities start as early as October 31, and are celebrated on November 1 and 2. Catholics would also know these as the feast days of All Saints' and All Souls. You can read more about celebrating the Day of the Dead as a Catholic here. Today, we are going to look at some Day of the Dead arts and crafts for helping you celebrate these very special days.
Note: These days have special meanings to Catholics, and especially to Mexican Catholics. They should be celebrated with respect and with cultural credit given to where they came from. They're not a "Halloween decoration" or a way to make money off of someone else's heritage. Please craft and celebrate with thought and respect.
Crafting Sugar Skulls
Little sugar skulls are used to adorn the altars or ofrendas on Dia de los Muertos. You will see lots of colorfully decorated skulls and skeletons throughout these celebrations. They are important symbols of mortality and the link between life and death. They certainly are beautiful and fun to create yourself. Let's take a look at some fun craft ideas for making some of these colorful skulls on your own.
I love this little nicho box craft from The Kitchen Table Classroom!
They are made from TP tubes and come with free printables to go inside!
These Day of the Dead Lanterns from Growing Up Bilingual are simple, fun, cheap, and easy! And you probably have these supplies sitting around your house. All of my favorite qualities in a craft! 🙂
Sugar skulls are super traditional for this day.
You can get skull molds at the Dollar Tree. Just sayin'.
These Sugar Skull Marshmallow Pops from Mom.me are genious becasue no mold is necessary, and even small kids could help with these cuties!
You can also make sugar skull caramel apples with The Crafty Chica
I love these easy Sugar Skull masks made with paper plates from Scrumdilly-do
And also from Growing Up Bilingual is this adorable sugar skull fruit pizza. Love it!
Post continues after this brief information about the Catholic Icing Monthly Membership
---
Monthly Liturgical Membership
Perfect for families! Each month you gain access to printable activity pages, crafts, home altar pieces, and more.
Never has living the liturgical year been so easy and affordable!
---
You can also print a free sugar skull banner for the Day of the Dead from the Crafty Chica. How cute is this?
Crafting Papel Picados
These colorful paper banners are very traditional in Mexico, especially for celebrating Dia de los Muertos! They can be quite fun and easy to create yourself with just colorful tissue paper and scissors.
Check out these easy to follow directions from Deep Space Sparkle on how to craft your own papel picados.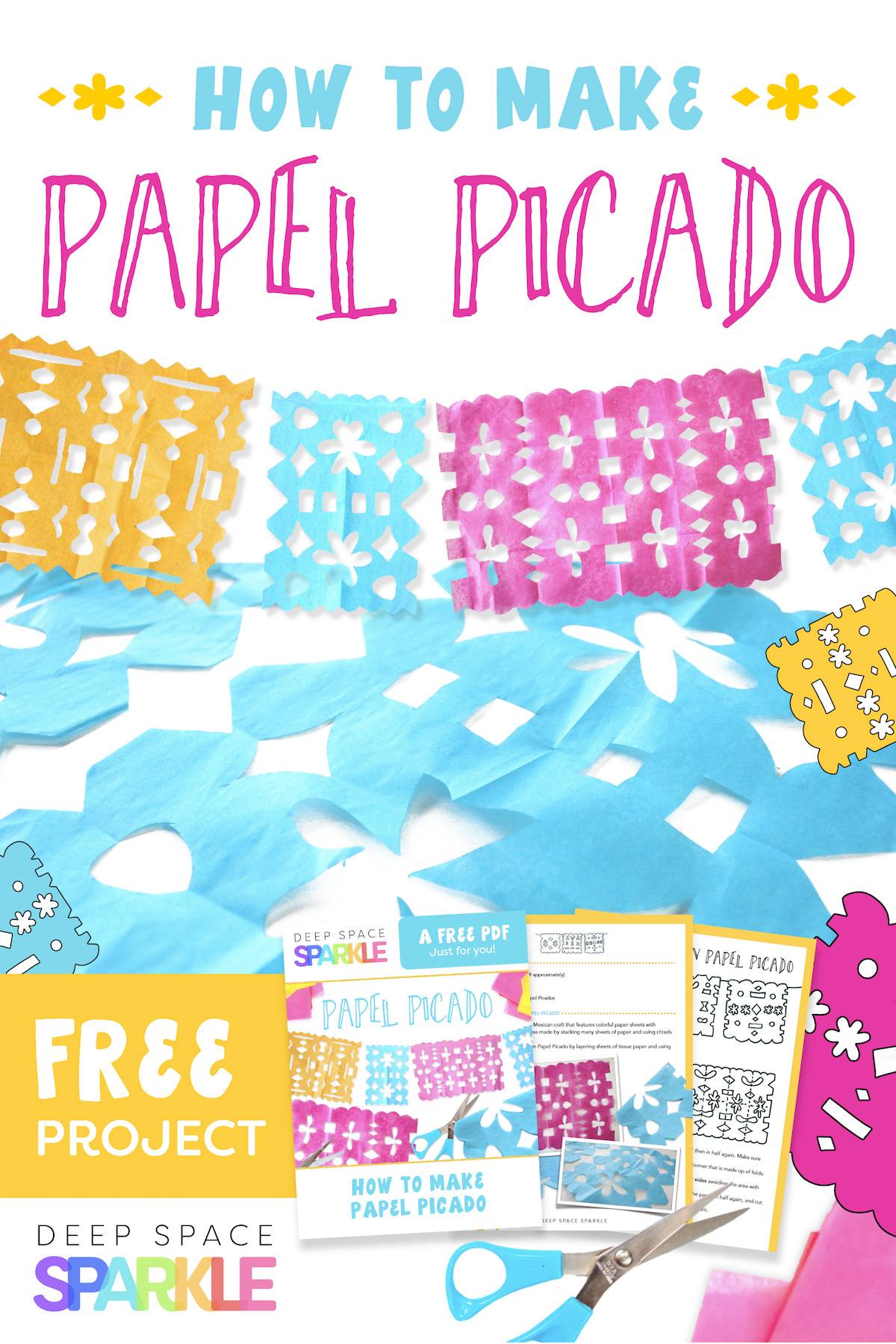 Marigold Craft For Dia de los Muertos
Marigold flowers are a very important part of the Day of the Dead celebrations. They are used to decorate altars, skulls, and the graves of deceased loved ones. Go check out this post by the Crafty Chica that tells about the meaning behind marigolds on this day, and she also has a free printable marigold craft for you to make!
DIY Ofrendas
The ofrenda is a special altar that is put together to remember specific deceased loved ones. They are tiered altars, with more and more personal items being shared on the higher layers.
The Crafty Chica shares some background of the history of ofrendas, as well as some directions on how to put your own ofrenda together.
The Crafty Chica also has a craft for making your own ofrenda candles. So cute!
Day Of The Dead Face Painting
It is also traditional to paing your face like a skull for Dia de los Muertos. This skeleton face character is sometimes referred to as "Katrina". Sometimes only half of the face is painted to symbolize the thin line between life and death. You can find some directions for creating a simple sugar skull costume here.
Happy celebrating everyone!
You can find all of my resources for living the liturgical year in November here.